bloc
Writers' Bloc is a spoken word collective based in Edinburgh.We put on a few shows a year that involve a bunch of us writing new material for a theme based show and reading it. Authors read their own stories. Typically shows are put on in pubs and we regularly attract audiences of between 50 and 80 people.
A show has three segments that last about twenty minutes each. A number of authors read in a slot. We have beer breaks between each segment and each show is planned so that there is a good mix of humour and more serious stuff, and that the material is nicely scheduled. We charge £3 or less for most shows. Not bad considering you're getting brand new material from several authors, many of which are well established. Frequently appearing (but not exclusively) are Stefan Pearson (that was for SEO purposes – gunna work better than 'me'), Hannu Rajaniemes, Gavin Inglis, Andrew C Ferguson, Jane McKie, Morag Edwards, and Andrew J Wilson.
The following review appeared in Scotland On Sunday on the 4th of November 2007:
Speculative reading is a Hallowe'en scream
By STUART KELLY
Instead of staying at home, besieged by guisers demanding folding cash rather than Cox's Pippins, I spent this Hallowe'en at the Writers' Bloc reading, the intriguingly entitled To The Devil An Asbo, in the Canon's Gait bar. These regular readings showcase "speculative" writing – the poetically correct term for the genres of fantasy, science-fiction and horror. As well as public performances, the group publish limited edition chapbooks of 250 copies and a new free magazine, One.
The group is certainly doing something right, as the room was filled to capacity, and, unlike the majority of literary readings, the average age was closer to 30 than 60. Writers of speculative fiction are, perhaps, the most looked down on in the literary world (it's a close run thing against Mills and Boon); and despite the roll-call of great names (Bram Stoker, David Lindsay, Arthur Conan Doyle, MR James, HG Wells, HP Lovecraft) it's still viewed as a slightly improper, faintly adolescent form of writing. So, To The Devil An Asbo was something of a revelation. The stories were witty, clever, genuinely spine-tingling in places and unafraid to take on larger issues and concerns.
The evening kicked off with Andrew C Ferguson, reading a wonderful jeu d'esprit which put characters from the popular children's TV series Balamory through the plot of cult classic The Wicker Man. It's tempting to say it put the Baal into Balamory. He continued with a very spry and profane tale of Scottish faeries and the assistance they lent to the Scottish football team. It has all the energy and vigour of early Irvine Welsh, but with far more humour and nuance.
Andrew Wilson and Gavin Inglis both performed proper ghost stories – Wilson's a superb little piece about how disguised the guisers actually are, and Inglis contributing a shocker about "internet graveyards". The story begins like a simple con; an online cemetery that charges customers for a loved one's virtual memorial. But it cranked up paranoia and simmering resentment towards an eerie conclusion.
Stefan Pearson's story dealt, as he said, with two of his favourite concerns: hating middle class environmental activists and zombies. Using your reanimated mother-in-law to drive an electricity generator in the basement was just the first of a series of very big mistakes in a story that balanced its grotesque comedy and gruesome subject engagingly. It has to be confessed that you need a robust stomach for some of the passages – Pearson's description of the difficulties in catching an undead cat with its own intestines was black and brilliant. Ferguson recounted how the foul-mouthed football player in a previous story had set a new Scottish record, in that 1% of the total word-count couldn't be broadcast on radio.
This was genuinely daring stuff, and there was enough comedy throughout to keep the darkness in check. In a way, it felt like how readings used to be: irreverent, surprising and provocative. Being overlooked by "serious literary fiction" has almost been beneficial for speculative writing – it carries a torch of innovation and rebelliousness that has long ago been snuffed out in middlebrow studies of middle age adulteries in middle England.
Chapbooks from Bloc Press

As well as putting on the shows we also produce a series of chapbooks via Bloc Press, oursmall press publishing arm. Some nice friends of ours sometimes make audio recordings of the shows and we have some great photographers who are fans and help try and make us look good. I'll get some links to their work shortly.
This is my chapbook The Chronicles of Vinegar Tom. There another 3 chapbooks in the Bloc Press series with more on the way. These books are limited to a print run of 250. I'm down to may last twenty or so, so if you want to buy one, please contact me and I'll sort you out. All chapbooks are individually signed and numbered. The Chronicles of Vinegar Tom costs £3.50 and contains three stories.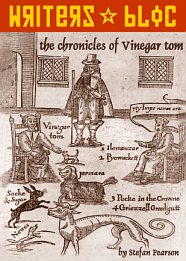 From the back cover: Vinegar Tom is more catalyst than cat, and three very different people have reason to cross his path.
In The Confessions of Stewart Seaton, a ship's surgeon becomes Hell-bent on a terrible revenge. More than one way sees a teenage misfit ensnared in a fiendish game of cat and mouse. Finally, in the eponymous Vinegar Tom, a little boy is consumed by his own dreams , even as his family consumes itself.
The Chronicles of Vinegar Tom takes the reader from the ill-fated Darien expedition, through contemporary suburbia, to the haunted halls of a decrepit Georgian mansion.
Vinegar Tom is no pussy cat and this collection has claws.