New Bloc Press chapbooks in the offing
Wednesday, February 04th, 2009 | Author:
admin
Some of you may be lucky enough to own Writers' Bloc chapbooks. To date there have been four published, each booklet signed by its respective author and limited to a print run of 250. The current chapbooks are shown below.
New chapbooks coming soon!
Expect to see new chapbooks very soon (hopefully at the show on the 26th of Feb) from two Bloc stalwarts, the erudite Andrew C Ferguon with The Secret of Scottish Football, and our very own mistress of the macabre, Morag Edwards, with Nil By Mouth. These are not to be missed.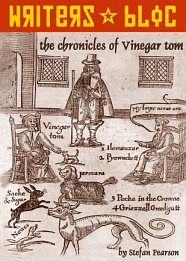 The Chronicles of Vinegar Tom by Stefan Pearson.
Vinegar Tom is more catalyst than cat, and three very different people have reason to regret crossing his path.
From the ill-fated Darien expedition of 1698, through contemporary suburbia, to the haunted halls of a decrepit Georgian mansion, thread three diverse tales linked by one enigmatic feline. Stefan's first professional publication demonstrates his storytelling breadth and an ability to go for the throat when the moment demands it.
£3.50.
 Crap Ghosts by Gavin Inglis.
Throughout history, few civilizations have sufficiently prepared their deceased for the afterlife. In this collection, mankind faces the dreadful consequences.
Inspired by a study of traditional ghost stories from around the world, and a collection of shabby books from charity shops inaccurately named Greatest Ghost Stories, Gavin has produced ten all-new stories of ineffectual apparitions, pathetic phantasms and substandard spooks. Gasp at the Ghostly Benefactor. Shrink from the Priestley Phantom. And marvel at Breathtaking Mysteries of the Hidden Red Pavilion.
SOLD OUT. Second edition available from Skeleton Press.
The Terminal Zone by Andrew J. Wilson.
"Certain primitive peoples believe that cameras can steal souls when they take a picture. Perhaps they're not such primitives after all. What do you think, Rob? Did the television camera steal your soul?"
The Twilight Zone is finished. As its creator sits in the wreckage of the cancellation party, he is confronted by an eerily familiar figure.
Rod Serling is about to enter The Terminal Zone.
This play, premiered in 1993, but first published in 2006, explores the life and work of one of the most important writers in television history. £4.00
Words of Birth and Death by Hannu Rajaniemi.
Finland is a land of darkness, myth and powerful magic. In this collection, modern Nokia-toting Finns come face to face with their deepest roots.
In The Viper Blanket, family blood is stronger than death, but an old man discovers something even stronger. Barley Child sees a suicide attempt turn into a drinking game where life itself is the prize. And a businessman's summer haven by the sea becomes a gilded trap in Fisher of Men.
"A very impressive collection" —Tangent Online.
£4.00.